Suggest me a good sci fi movie to watch
3 Replies
Add A Reply
Forum Topic

Initiate
Member
267 XP
Mar-26-2021 4:18 PM
Sorry if this is dumb but I'm bored just like my latest topic says.So yeah if you know any sci fi movie just tell me.
3 Responses to Suggest me a good sci fi movie to watch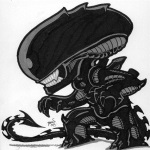 2K
Member
4125 XP
Mar-27-2021 5:37 AM
Annihilation (2018)
Alien Cargo (2001)

Red Planet (2000)

Species series

Critters series
ALIEN VERSUS PREDATOR UNIVERSE
Initiate
Member
486 XP
Mar-29-2021 10:49 AM
You should watch The Great Wall or Journey to the Center of the Earth.
That is one big pile of shit - Ian Malcom, 1993

Initiate
Member
267 XP
Mar-30-2021 12:11 PM
I watched most of these except for Red Planet and Alien Cargo which i watched and were good,so thanks everyone.
Add A Reply
Sign in to add a reply to this topic!