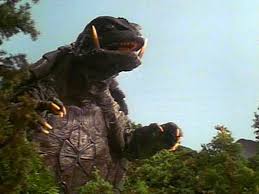 Gamera Chronicles Chapter 12:Dominion
3 Replies
Add A Reply
Forum Topic

Initiate
Member
267 XP
Apr-17-2021 1:25 PM
Inspired by Godzilla Extinction
Original idea by Kamoebas V.6
Location:Xakoa Alien Mothership
The Xakoa Aliens see that their gadget,also known as "Mind Control Device" has succeeded.It begins to sink in Gamera's head to get to the brain so they can mind control him.
Location:Gamera's Head
The Mind Control Device keeps on drilling into Gamera's head,until it finally reaches the brain and mind of Gamera.
Location:Gamera's Mind
Gamera seems to feel something,the fact that no one is on his side,Titanosaurus is,but somehow he does not realise that in his mind,all he feels is the rampage and damage he caused to everyone,he feels rage,he feels wrath,he feels like he is going berserker.With no one on his side,no one cares about him,no one wants to help him,that is what the device causes him to think.He only wants to destroy,he only wants to cause others pain.But that is what the Xakoa Aliens want him to feel.This pain in his head and his state of mind cause him to roar of pain.
Location:Xakoa Alien Mothership
The Aliens want to start to control Gamera,but they can't,for an unknown reason they cannot.But from their cameras they see Gamera roaring,the wrath of Gamera has begun.Gamera's pupils dissapear.
Location:Himalayas
Gamera starts to destroy everything around him,burning everything,killing every life form.Then suddenly,even if his enemies plea for mercy,Gamera keeps on killling and destroying,he turned from a hero to a monster.Titanosaurus sees this and roars at Gamera to stop,but Gamera turns around.Gamera then rips Titano's arm off,causing Titano to roar in pain,and to kill Titano,Gamera bites him in the neck to kill his partner in battle.But,after killing Titano and seeing what he had done,he comes back to his senses.He killed the only person that had helped him,he killed his only friend and ally,he....
And in pain,he roars extremely loud.
3 Responses to Gamera Chronicles Chapter 12:Dominion
2K
Member
3193 XP
Apr-17-2021 1:33 PM
Yes.... this one is so sad
expecting the worst, sets you up for thr worst
Initiate
Member
486 XP
Apr-17-2021 1:36 PM
Amazing chapter. Loved the way you showed us gamera being mind controlled.
That is one big pile of shit - Ian Malcom, 1993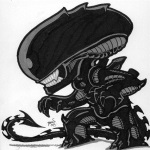 2K
Member
4185 XP
Aug-29-2022 5:43 AM
wow that turned dark real quick
ALIEN VERSUS PREDATOR UNIVERSE
Add A Reply
Sign in to add a reply to this topic!