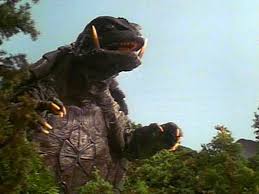 Gamera Chronicles Chapter 10:Power Of The Sea Kaiju
4 Replies
Add A Reply
Forum Topic

Initiate
Member
267 XP
Apr-14-2021 12:53 PM
Inspired by Godzilla extinction
Original idea by Kamoebas V.6
Made by:
-Kamoebas V.6
-SarcasticGoji
-Monster_Zero
-Kattozilla
-Xenotaris
Location:Bottom of the Sea
Titanosaurus is resting at the bottom of the sea,until,a strange shockwave wakes him up.He swims to the surface to see what is going on.
Location:Surface
Millions of weird things fall from the sky onto the ground and sea,Titanosaurus tries to use a Supersonic beam to change the trajectory of the weird things,but it doesn't work.He rushes to get on land.
Location:Land
As Titanosaurus looks at his surroundings,the life forms of the area have already perished,the only thing remaining is the weird things,they seem to be a colony.He doesn't understand what those things are and what they are doing,but for now,he ventures off in search of survivors.
Location:City
A giant creature seems to be terrorizing the city,destroying all life,until it gets hit by a powerful gust of wind,Titanosaurus runs up to the monster which is named Legion.Titanosaurus smashes his tail into the ground causing an earthquake,Titanosaurus then uses his SuperSonic beam on Legion,but Legion uses some sort of technique where he cancels moves.While Legion uses his technique,the earthquake manages to catch him off guard,and Titanosaurus uses that opportunity to knock out Legion with a strong punch.With Legion unconscious,Titanosaurus devises a plan while to eliminate Legion.It is then that Titanosaurus decides to drag Legion to the sea.
Location:Land
Titanosaurus dragged Legion all the way here,almost there but.Legion was pretending to be unconscious and hits the surprised Titanosaurus.Titanosaurus gets back up and goes behind Legion and grabs its tail.Titano throws Legion into the sea and also jumps right in.
Location:Sea
With Legion in the sea,Titano swims to Legion and hits him multiple times and then shakes hit tail super fast,creating whirlpools up above,Titanosaurus then punches Legion up into the whirlpools and then uses his SuperSonic beam which successfully kills Legion.
But Titanosaurus realised that he hadn't done his job,he was supposed to protect life not hurt it more,that fighting Legion in a city and the sea and using a lot of brute force also damages life.But he decides that he can restore life tommorow,and so he goes to rest at the bottom of the sea.
What will happen tommorow?Will Titanosaurus succeed in his plans?Will Gamera help him?Find out in the next chapter!
4 Responses to Gamera Chronicles Chapter 10:Power Of The Sea Kaiju
Add A Reply
Sign in to add a reply to this topic!