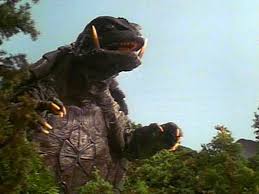 Gamera Chronicles Chapter 9:Bond Strengthening
17 Replies
Add A Reply
Forum Topic

Initiate
Member
267 XP
Apr-11-2021 4:02 PM
Inspired by Godzilla Extinction
Original idea by Kamoebas V.6
Made by:
-Kamoebas V.6
-SarcasticGoji
-Monster_Zero
-Kattozilla
-Xenotaris
Location: Space
A loud and alien roar is heard, it's King Ghidorah! He seems to be controlled by the Xakoa Aliens, they are directing him to Earth.
Location: Sea
Titanosaurus senses an enemy coming to Earth, so he starts to swim to the surface, once he gets to the surface, he decides to get to the coast of a nearby beach.
Location: Beach
Humans evacuate as Titanosaurus rises up from the water. But then, Titano gets hit by a beam that suddenly makes him start to fall deep in the ground, it's a Gravity Beam by King Ghidorah, Ghidorah then lands on the ground. The two creatures roar at each other, Titanosaurus being stuck in the ground tries to use his Supersonic Beam, but it fails, King Ghidorah prepares to kill Titanosaurus with a fully charged Electric Ray. It seems hopeless, until Gamera shows up and bites one of Ghidorah's heads off! Gamera then uses his Plasma Balls to try and blast the other heads off, but Ghidorah retaliates by using the Gravity Beam and successfully destroys the Plasma Balls, to which the Gravity Beams reaches Gamera and causes him to fall to the ground. Ghidorah then proceeds to fly down.
Location: Underground
As Ghidorah reaches in the underground, Titano and Gamera are already prepared to fight as Ghidorah regenerates his head. Ghidorah charges to Gamera and immobilizes him, but Titano grabs Ghidorah's tails and begins to spin him around, and then he proceeds to throw Ghidorah high up into the ceiling for the underground, to which Gamera flies up and charges into Ghidorah, eventually breaking the ceiling and getting out of the underground.
Location: Beach
Ghidorah is launched into the sky. Gamera prepares to use a full power Burning Beam! And then he launches the Burning Beam, it impacts with Ghidorah, which causes a giant explosion. Titano climbs to the surface with the use of the hole that Gamera made when he broke the ceiling, only to see that Ghidorah has already been defeated. Him and Gamera roar at each other in respect, and then they part ways for now.
Location: Xakoa Alien Mothership
The Xakoa aliens decide to leave Gamera alone for a bit, so they can make up a new plan, they now that they will kill Gamera at some point.
With the threat annihilated, what will the two kaiju do? What is the plan that the Xakoa Aliens will come up with? Find out in the next chapter!
17 Responses to Gamera Chronicles Chapter 9:Bond Strengthening
Add A Reply
Sign in to add a reply to this topic!