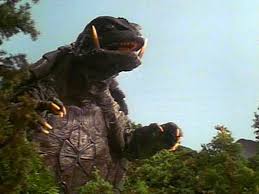 Gamera Chronicles Chapter 7:The Unexpected
13 Replies
Add A Reply
Forum Topic

Initiate
Member
267 XP
Apr-02-2021 2:35 PM
Inspired by Godzilla Extinction
Original idea by Kamoebas V.6
Made by:
-Kamoebas V.6
-Monster_Zero
-Hinikuna Goji
Location: Planet X
 ROOOOOOOOOOAAAAAAR!! Two roars are heard from Planet X, there are two beasts fighting, one of them being Gigan and the other is Megalon. As Gigan manages to get an upper hand in combat and smacks Megalon to the ground, he prepares to finish him off, but a portal appears behind Gigan and pulls Gigan right into it. Megalon strangely looks at the portal as it disappears without a trace.
Location: Random Scrapyard
Gigan is teleported to a random scrapyard, where he roars loudly, which the Xakoa Aliens hear this from their sound radar on their ship. They find Gigan weakened from his fight with Megalon, so they speak to it using a Kaiju Translator. They tell it that they will repair him only with the condition that they will fight their biggest enemy: Gamera.
 Location: Xakoa Alien Mothership
Gigan's chest saw and blades are repaired, and he is also given a Kaiju Radar built into his cybernetic eye. They search for Gamera, and they do get a signal of him, somewhere near a crash site of a Xakoa Alien Scout Ship.
 Location: Xakoa Alien Scout Ship crash site
Gamera spots the Mother Ship and attempts to attack it, but the attack is unsuccessful. The Mother Ship's hatch opens, Gigan falls out and roars. Gamera uses a full power plasma ball on him, but Gigan cuts in half with his blades. Gamera flies to Gigan but he gets shot down by the laser of the cybernetic eye. It seems hopeless as Gamera seems to pass out within seconds of being shot down. The Xakoa Aliens still see heart pulse on their scanner. Gamera wakes up. ROOOOOOARRRR!!!! Gamera then quickly flies above Gigan and rips Gigans arms off, crashing into Gigan with full velocity and creating a massive crater. Gigan is then blasted by a barrage of plasma balls and dies in agony. As the Xakoa Aliens hear the roars of agony from Gigan, they flee.
Gamera seems to have had enough with the fight and goes to rest. But what will he happen after these events? Will someone stronger come out to fight Gamera? Will the Xakoa Aliens stop Gamera? Find out in the next chapter!
13 Responses to Gamera Chronicles Chapter 7:The Unexpected
Add A Reply
Sign in to add a reply to this topic!