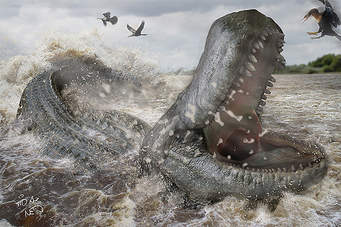 Forum Topic

Contributor
Member
765 XP
Aug-15-2019 7:41 AM
About Purussaurus
Purussaurus is an extinct prehistoric crocodile which lived approximately 8 million years ago during the Late Miocene Period. It was first discovered during the late 19th century and was named in 1892 by João Barbosa Rodrigues. This prehistoric caiman was named after the Purus River in Brazil – which is where it was first discovered.
If you've seen Purussaurus pictures, then you probably know this is a crocodile you wouldn't want to meet. It was about 35 feet long – twice as long as a saltwater crocodile and it weighed around 3 tons, making it about twice as heavy as one as well. It had a large tail which it could swat animals with and had loads of razor-sharp teeth in its 5-foot long skull. It not only looked like a larger version of modern crocodiles but it also probably moved as fast as one. It has been estimated that Purussaurus probably could have moved at a speed of about 16 miles per hour in the water.
While it was a ferocious predator and was fairly large, it was pretty small as compared to the truly giant crocodiles that have lived on this planet. Both Sarcosuchus and Deinosuchus would have made these crocodiles look small by comparison. Of course, those 2 crocodiles each lived in different areas and during different periods of time, so they wouldn't have met.  Sarcosuchus lived in Africa during the Early Cretaceous Period and Deinosuchus lived in North America during the Late Cretaceous Period. Purussaurus lived in South America – particularly the Amazon area – during the Late Miocene Period. None of these crocodiles would have come into contact with each other.
One of the most interesting facts about Purussaurus, however, is that it probably didn't just live off of fish and land animals. It probably had a very rounded omnivorous diet. Sure, it ate fish and shellfish that existed in the area, but it also lived off of carrion and may have even eaten vegetation that grew around the rivers and creeks it inhabited.
About Rhamphosuchus

Unlike most prehistoric crocodiles, Rhamphosuchus wasn't directly ancestral to today's mainstream crocodiles and alligators, but rather to the modern False Gharial of the Malaysian peninsula. More notably, Rhamphosuchus was once believed to have been the biggest crocodile that ever lived, measuring 50 to 60 feet from head to tail and weighing over 20 tons--estimates that were drastically downgraded upon closer examination of the fossil evidence, to a still hefty, but not quite as impressive, 35 feet long and 2 to 3 tons. Today, Rhamphosuchus' place in the spotlight has been usurped by truly gigantic prehistoric crocodiles like Sarcosuchus and Deinosuchus, and this genus has faded into relative obscurity.
Rhamphosuchus was the number one, but not anymore: for many years scientists believed that it was one of the largest, if not the largest crocodylian that ever lived, reaching an estimated length of 15 to 18 meters (49 to 59 feet) and 20 tons in weight. However, a more recent study suggests that the animal may have been 8-11 meters (26-36 feet) in length, and therefore is not the largest known crocodylian.
Rhamphosuchus inhabited what is now the Indian sub-continent in the Miocene. It is only known from incomplete sets of fossils, mostly teeth and skulls.
6 Responses to Purussaurus Vs. Rhamphosuchus
Add A Reply
Sign in to add a reply to this topic!