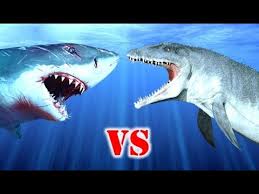 Forum Topic

Today I am going to give you guys my opinion on who would win a fight between these 2 sea monsters.
Megalodon:
Length: 60 Feet
Weight: 60 Tons
Speed: 20 MPH
Bite Force: 20 Tons
Diet: Large Whales, Large Fish, and Dolphins
Mosasaurus:
Length: 50 Feet
Weight: 15 Tons
Speed: 30 MPH
Bite Force: 6-7 Tons
Diet: Ammonites, Small Sharks, Large Fish, and Small Mosasaurs
Advantages for Megalodon:
Stronger Bite
More Fighting Experience
Larger
Bulkier
Better Smell
Advantages for Mosasaurus:
Faster
Better Hearing
More Agile
Smarter
FIGHT:
A Mosasurus comes across a huge moving object That he recognizes as a Giant Shark. and begins its attack, The Megalodon feels Movements coming at him on the side , He sees the figure charging at him and swims out of the way, The Mosasaurus thunders past Megalodon, the Mosasaurus twists and charges again, Megalodon sees the Mosasaurus on his side, Mosasaurus bites the Megalodons Side, but due to Megalodons thick hide, the bite just leaves a bite mark, Megalodon turns and rams the Mosasaurus, he then twists and bites off the Mosasaurs Left, Fin.
Megalodon Turns and Dives deep watching the blood of the Mosasaurus leak into the water, Mosasaurus Looks around for the Megalodon and swims around in only one direction, When he looks down the last thing he sees is the open jaws of Megalodon, Megalodon bites the Mosasaurs belly and keeps chomping, he then rips the body to pieces and begins to feed, this will satisfy the Megalodon for the next 2 days.
Winner: Megalodon
The Megalodons thick hide and Stronger Bite were the huge advantages of this fight, Even the Mosasaurs Agility wasn't enough for it. The winner of this fight goes to the Megalodon. But who do you think would win?
Youtube Account: James inkton 2
Subscribe For More!
"A Dino Doesn't Win
Because of Popularity, It's Because of Science"
James Inkton, August 28th, 2019.
8 Responses to Megalodon vs Mosasaurus
Add A Reply
Sign in to add a reply to this topic!