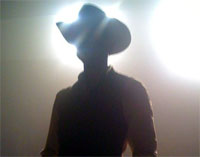 Forum Topic

Legend
Member
5639 XP
Feb-27-2017 11:48 AM
Hello there.
    I know that Valentine's Day has come and gone as quickly as the month of February; however, I desire to present a Valentine's Day letter to all of the gentlemen, my Space Cowboys, on SCIFIED. Over the past few years, it seems more and more that the strong, masculine figures throughout the world are being ignored and cast aside. Yet, that is not the world I know and love. As such, I have prepared a little something for the men who tame the wild frontiers of unknown space - and those who simply engage in stirring conversations concerning the exploits of such great figures!
    I awake each day and lay to rest each night as a sun burns on the horizon. As bright as the soul that shines within me, a marker of what has been and what will come. Yet, in the midst of that glow, there is ever one constant: a shadow that cuts through to assure me. There I see them, my Cowboys, riding off to lands and worlds unknown. Strong in mind, body and purpose, I know not where they will go into the setting sun. The shadows grow long and fade into the night, leaving not but echoes of their passage. Still, as dawn breaks, my heart glows anew, for I behold them as they return - weary with tales of the farthest reaches. Unbowed by the night. 
17 Responses to To all my Space Cowboys.
Add A Reply
Sign in to add a reply to this topic!