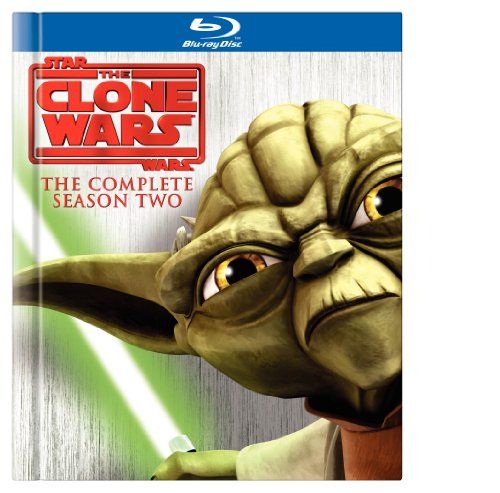 Star Wars: The Clone Wars Season 2 Reviews/Discussions
3 Replies
Add A Reply
Forum Topic

Initiate
Member
425 XP
Jun-11-2016 6:20 AM
Well I finished Season 2 another 22 episode season that had entertaining arcs, a few boring episodes, and once again doesn't really progress any character or overall story. Is it good, mediocre or bad?
I'll start by saying that I probably won't do characters from season 1 as they all pretty much stayed the same a few big ones got added so I'll address them.
Cad Bane- He's a little too good if this makes sense. The other bad guys so far being Grievous, Dooku, and Asajj didn't really seem as successful or ingenuitive as him. He's not bad, but wish they would tone him down a little or bring the others up to his pace which isn't seen this season
Clovis- Don't like him really, don't even like the concept behind him.
Barriss Offee- Glad to see her, I know what happens to her eventually so was looking for any signs of it in this season saw none, but like the character so far.
Satine- I guess this is their version of Siri Tachi. I like her, nothing else to say really she compliments Kenobi
Aurra Sing- Different than legends, but I liked her. Nothing else to say really
Bobba Fett- I know this character is popular, but I'm not than into him. Don't hate him, but didn't really connect to him, and the personality they gave his set him up as someone like a Han Solo maybe, but we know that doesn't pan out.
Overall this season isn't bad but I'll say it's worse than Season one. The fact no overarching plot came from the first season was almost forgivable, but now we're 44 episodes in by the end of this and still nothing that put the characters closer to their Revenge of the Sith counterparts rather than Attack of the Clones. I know a lot of the episodes weren't aired in order, which is why we consistently come back to Christophisis even though they've won it ever since the first 30 minutes of the Clone Wars movie that was just a few episodes put together with a bigger budget. I don't know why they released these out of order, but not sure it's helping them. Just a few standout episodes
The Deserter(ep 10)- Just another good clone centric episode. Wasn't expecting anything going into it as the season had yet to really grab me at this point, but hey they do it.
Lightsaber Lost(ep 11)- I just really think this episode highlights why Ahsoka would be a better character without having Anakin as the teacher.
Mandalorian arc(ep 12-14)- Literally only up here because Satine and Kenobi.
Death trap(ep 20)- I just really like this episode for Bobba and the clones. 
Now for some episodes that I thought were the worst
Senate spy(ep 5)- Already said I don't like Clovis or the idea behind him, although I will admit this isn't as bad an offender as his later appearances.
Legacy of Terror(ep 7)- I just didn't really get the Alien homage or need to have zombies in star wars.
Bounty Hunters(ep 17)- Just felt this episode was really boring, and didn't have many good qualities to alter that.
The rest is pretty much medicore for me nothing I hated but I probably won't watch any of them again.
Last season got a 3.5, so I'll knock it down a little for this season. 
Star Wars The Clone Wars Season 2 get a 3/5 for me. Still good, even great at parts so meanders too much.
3 Responses to Star Wars: The Clone Wars Season 2 Reviews/Discussions

2K
Moderator
3811 XP
Jun-11-2016 7:33 AM
I can respect this, but I highly recommend season 3. It has the Mortis arc, with the force wielders, and tons of great episodes.
I highly recommend it, just as I did season 2. However pass season 2 the animation gets better it really becomes amazing.

Initiate
Member
425 XP
Jun-11-2016 6:27 PM
I still like the series overall I'd just describe it as disappointingly average since we're shown what the high points of the show are and what it could be.
Just going off so far I'd say it almost seems like they got scheduled too many episodes and didn't quite know where to go with it hence episodes out of order, no overarching plot, and characters not changing. If both seasons were 12 episodes assuming they kept all the good episodes and took out all the bad, this would be a really strong series, but as it stands I'd say the 2003 Clone Wars microseries is making a better case for being the best star wars show out so far. 

2K
Moderator
3811 XP
Jun-11-2016 8:32 PM
Watch until season 3, it just becomes phenomenal.
Add A Reply
Sign in to add a reply to this topic!