Average User Rating: 4.3 / 5
Worldwide Box Office: Not Yet Calculated
Directed by Ishiro Honda, Rodan is a Toho movie based on a screenplay by Takeshi Kimura, Ken Kuronuma, Takeo Murata.
Rodan Trailer
Rodan Release Date
The release date for Rodan was December 26th, 1956.
Rodan Plot
Shigeru Kawamura investigates possible murders at a coal mining facility. In search for the truth he stumbles upon the existence of a huge, insect-like creature that have been hiding in the mine. When Shigeru takes a team into the mine to hunt the creatures he's injured with traumatic memory loss. After friends and doctors help him regain his memory he reveals a much greater threat has hatched beneath the Earth: Rodan has awakened and he's not alone...
Rodan Poster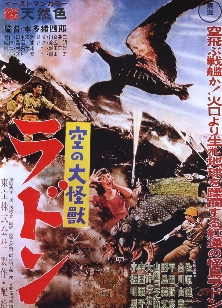 Rodan Cast
Kenji Sahara
Yumi Shirakawa
Akihiko Hirata
Akio Kobori
More Rodan Trailers
Rodan News Articles
User Reviews