Average User Rating: 2.9 / 5
Worldwide Box Office: Not Yet Calculated
Directed by Masaaki Tezuka, Godzilla vs. Megaguirus is a Toho movie based on a screenplay by Hiroshi Kashiwabara, Wataru Mimura.
Godzilla vs. Megaguirus Trailer
Godzilla vs. Megaguirus Release Date
The release date for Godzilla vs. Megaguirus was December 16th, 2000.
Godzilla vs. Megaguirus Plot
Years after Major Kiriko Tsujimori loses her commanding officer to Godzilla, she vows revenge on the monster King. She and the G-Graspers prepare a new weapon: The Dimenson Tide. Although the weapon's test proves successful it accidentally rips a hole into another dimension and releases the deadly Meganula to find energy for their queen. With Godzilla and the queen, Megaguirus, engaged in battle Kirko's G-Graspers must find away to use the Dimension Tide to eliminate both.
Godzilla vs. Megaguirus Poster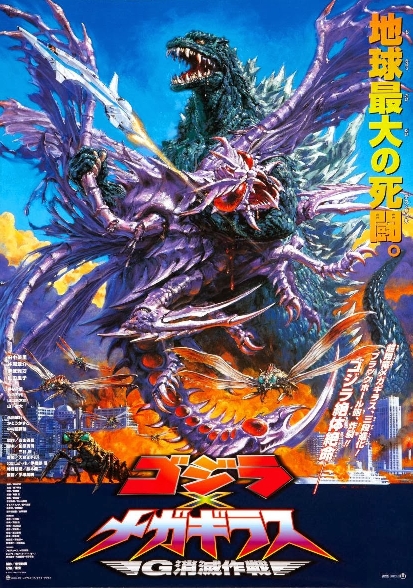 Godzilla vs. Megaguirus Cast
Misato Tanaka
Shosuke Tanihara
Masatoh Eve
Yuriko Hoshi
More Godzilla vs. Megaguirus Trailers
Godzilla vs. Megaguirus News Articles
User Reviews