Invasion of Astro-Monster
Average User Rating: 4.3 / 5
Worldwide Box Office: Not Yet Calculated
Directed by Ishiro Honda, Invasion of Astro-Monster is a Toho movie based on a screenplay by Shinichi Sekizawa.
Invasion of Astro-Monster Trailer
Invasion of Astro-Monster Release Date
The release date for Invasion of Astro-Monster was December 19th, 1965.
Invasion of Astro-Monster Plot
During a mission to the newly found Planet X, astronauts Fuji and Glenn are shocked to discover intelligent life. The Xians claim they have been forced into hiding by King Ghidorah and request help from the monsters that previously defeated him-- Godzilla and Rodan. In return they promise a miracle cure for all disease on Earth. Although suspicious, Fuji and Glenn agree to make the proposition to Earth's leaders. After the exchange the Xians reveal their agenda for planetary conquest. While they use Godzilla, Rodan and King Ghidorah to lay waste to the planet, Glenn, Fuji and a young inventor, Tetsuo, scheme to break the monsters free of alien control.
Invasion of Astro-Monster Poster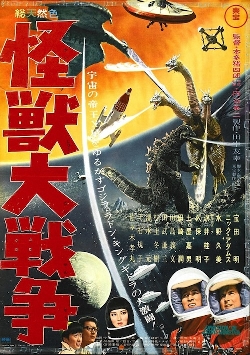 Invasion of Astro-Monster Cast
Akira Takarada
Nick Adams
Kumi Mizuno
Akira Kubo
Yoshio Tsuchiya
More Invasion of Astro-Monster Trailers
Invasion of Astro-Monster News Articles
User Reviews