Average User Rating: 4 / 5
Worldwide Box Office: Not Yet Calculated
Directed by Takao Okawara, Godzilla 2000 is a Toho movie based on a screenplay by Hiroshi Kashiwabara, Wataru Mimura.
Godzilla 2000 Trailer
Godzilla 2000 Release Date
The release date for Godzilla 2000 was December 11th, 1999.
Godzilla 2000 Plot
Yuji Shinoda, and his daughter Io, are the Godzilla Prediction Network; a private company Shinoda founded to warn Japan of Godzilla's attacks. Conversely, Crisis Control Intelligence, a government operated agency, aims to destroy Godzilla. When an alien ship rises from the ocean it forces Shinoda and his former CCI colleagues to join forces. Together they discover the alien life form intends to model itself after Earth's dominant creature: Godzilla himself.
Godzilla 2000 Poster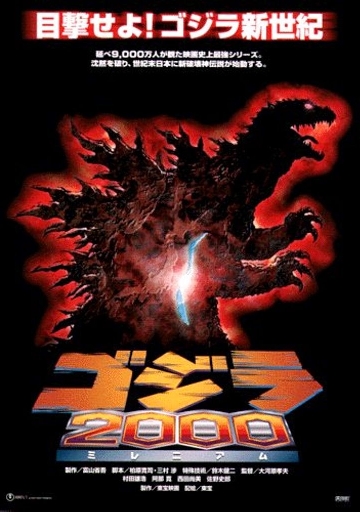 Godzilla 2000 Cast
Takehiro Murata
Naomi Nishida
Shiro Sano
Hiroshi Abe
More Godzilla 2000 Trailers
Godzilla 2000 News Articles
User Reviews