Average User Rating: 4.1 / 5
Worldwide Box Office: Not Yet Calculated
Directed by Ishiro Honda, Destroy All Monsters is a Toho movie based on a screenplay by Ishiro Honda, Takeshi Kimura.
Destroy All Monsters Trailer
Destroy All Monsters Release Date
The release date for Destroy All Monsters was August 1st, 1968.
Destroy All Monsters Plot
In the year 1999 mankind has consolidated all of Earth's monsters to the Bonin islands, known as Monsterland. When all contact is lost with Monsterland the giants appear around the globe and lay waste to major cities in various countries. The alien Kilaaks take responsibility and vow to conquer Earth with the monster army. Capt. Yamabe spearheads the war against the Kilaaks and gains control of Earth's monsters for a climactic final battle on Mt. Fuji.
Destroy All Monsters Poster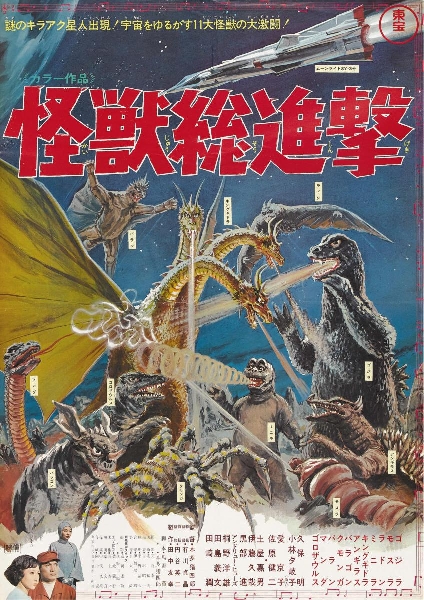 Destroy All Monsters Cast
Akira Kubo
Jun Tazaki
Yukiko Kobayashi
Kyoko Ai
More Destroy All Monsters Trailers
Destroy All Monsters News Articles
User Reviews