Average User Rating: 2.5 / 5
Worldwide Box Office: Not Yet Calculated
Directed by Justin Kurzel, Assassins Creed is a 20th Century Fox, New Regency Pictures movie based on a screenplay by Micheal Lesslie, Scott Frank, Adam Cooper, Bill Collage.
Assassins Creed Trailer
Assassins Creed Release Date
The release date for Assassins Creed was December 21st, 2016.
Assassins Creed Plot
After Callum Lynch discovers that his ancestor, Aguilar from 15th Century Spain was an Assassin, Callum relives Aguilar's memories to gain the knowledge and skills necessary to confront the Templars—age-old enemies of the Assassins—in the present day.
Assassins Creed Poster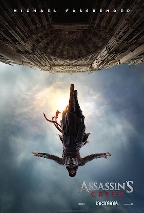 Assassins Creed Cast
Michael Fassbender
Marion Cotillard
More Assassins Creed Trailers
Assassins Creed News Articles
User Reviews