Forum Topic

Initiate
Member
326 XP
Jul-27-2022 6:58 PM
Mammal
  the animals size was about 6 feet high at the shoulder and 12 feet long, a size that would make Andrewsarchus the largest known meat-eating land mammal that ever lived. Although it had large jaws I am not really scared by it. What about you?
2 Responses to Andrewsarchus:Scary or Not?

2K
Member
2064 XP
Jul-28-2022 2:00 AM
This cute guy, absolutely not. I encountered this mammal thousands of times and I never felt scared of it.
As long as we set a goal and we are determined to achieve our passions and goals, our determination is limitless.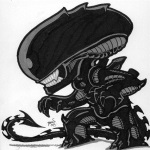 2K
Member
4035 XP
Aug-01-2022 7:02 PM
I thought Andrewsarchus was supposed to resemble an entelodont aka a Terminator Pig
ALIEN VERSUS PREDATOR UNIVERSE
Add A Reply
Sign in to add a reply to this topic!