Forum Topic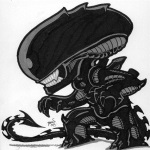 2K
Member
3924 XP
Jul-20-2022 7:40 PM
The dilophosaurus lived 193 Million BC in what was later known as Arizona. Its hypothesized to be a fish eater due to its elongated hook snout and was one of the earliest large theropods. So what happened to this majestic creature?
ALIEN VERSUS PREDATOR UNIVERSE
4 Responses to What happened to Dilophosaurus?
Add A Reply
Sign in to add a reply to this topic!