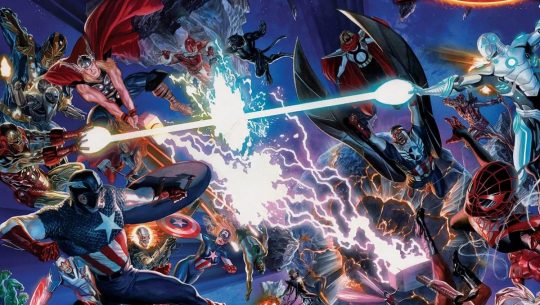 Forum Topic
Conversationalist
Member
1263 XP
Oct-25-2020 7:40 PM
So, a long time ago, I had an idea to write a book series based on the Multiverse, right? So I came up with a title and started writing the first paragraph in the first book. Later on, I came up with a few more titles for the series. But I had to put it off for a long time, 'cause I'm only a sixteen year-old high school sophomore and I don't have enough time to write it. But a few days ago, I had some free time and I went to go write it. So I spent hours coming up with different titles for the books. I'm still working on some of the titles, but here's the rough draft of them:
Book 1: WORLD TOUR
Book 2: FINAL FRONTIER
Book 3: SOMEWHERE IN TIME
Book 4: STRANGERS IN A STRANGE LAND
Book 5: HOMECOMING
These I'm still deciding on but here you go:
THE IDES OF MARCH
BREAKING THE LAW
CIVIL WAR
Annnnnnnnd, as a bonus, I will show you the beginning part of the first book, but I would appreciate it if you could give me some pointers on this and tell me what titles you think are good or if you have a suggestion for one
"I sat bolt upright when Van Halen's "Eruption" began to blast out of my stereo speakers. I scrambled out of my bed quickly to shut it off. I paused for a moment to hear if anyone was coming down the hall, but I only heard silence. I turned one of my lamps on and got ready for school. I opened the blinds on my window and I could see the sun rising in the distance, despite it still being dark out. I finished getting dressed, but then I decided to wait after breakfast to brush my teeth(gross, I know). I sat down at my desk and opened up my laptop,. I clicked on the web browser and opened up my e-mail, which there was at least ten different notifications, all from the same website. I clicked on the recent ne, sent to me thirty minutes ago, with the subject line NEW VIDEO OF THE MYSTERIOUS "RED VIPER" STOPPING THE INFAMOUS DREAM MONSTERS FROM KILLING A FAMILY. I rolled my eyes and, against my better judgement, clicked on the link, which took me to one of my favorite websites....."
Ah shit I'm using my wrong eye again. Sorry that was meant to be behind your back
5 Responses to Multiverse Book Series
Add A Reply
Sign in to add a reply to this topic!