Thanatotheristes: a newly discovered tyrannosaur
1 Replies
Add A Reply
Forum Topic
Initiate
Member
198 XP
Feb-15-2020 5:10 PM
Enter Thanatotheristes degrootorum, the oldest known tyrannosaur from northern North America, and the newest Canadian tyrannosaur to be discovered in about 50 years.
Link here.
1 Responses to Thanatotheristes: a newly discovered tyrannosaur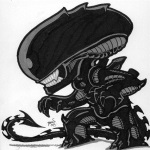 2K
Member
4035 XP
Feb-18-2020 10:53 PM
cool, its interesting as always to learn the dinosaurian family  tree is growing :)
ALIEN VERSUS PREDATOR UNIVERSE
Add A Reply
Sign in to add a reply to this topic!