A Day in the Life of a Dinosaur- Piscius the Spinosaurus
6 Replies
Add A Reply
Forum Topic

2K
Member
3687 XP
Jun-25-2015 2:24 PM
Hello everyone, I am here to present you the 3rd episode of A Day in the Life of a Dinosaur. For those of you who don't know about it, I am starting to post articles and topic about trying to set a majeticness and fierce beauty to these animals, with scientific accuracy and a balance with imagination.
If you wish to read my other stories of me writing about a typical day of a dinosaur, you can check out the past ones here:
Episode 1: Sicarius the Velociraptor
Episode 2: Parens the T. rex (Please comment on this one if you haven't, I would like more criticism with this one...)
Today we have a female dinosaur, Piscius. She is a female parent Spinosaurus Aegyptiacus. She has a fresh clutch of children she needs to hunt, care, and protect.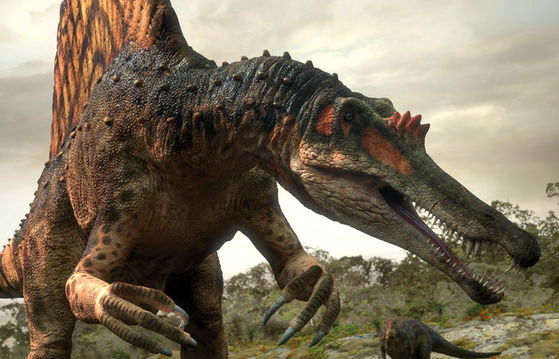 Since I actually found some people finding things wrong/"fishy" with the newest Spinosaurus reconstruction, I have based Piscius off a "combination" of the "old" and "new" Spinosaurus.
What is not known  about Spinosaurus such as the behavior, parenting skills, and hutning techniques, I have based off of modern crocodiles.
I tried hard with this one to make the dinosaurs appear beautiful but deadly, while being fierce and strong-willed.
Female crocodiles tend to be significantly smaller than males, so I have reduced the size of Picius a bit. She is a fully grown female.
Piscius is based off the latin word pisces for "fish".
Hope you enjoy!
***
Piscius slowly marched around, looking for prey to show how to hunt for her baby Spinosaurs. She was one of the bigger females, somewhat alleviating her responsibility to take care of her young. She stood tall, vibrant with energy, knowing she would have to be quick to find food.
She knew a perfect meal for her children would be the Onchopristis that regularly swam in the river. She had to be quick.
And she got excited as she spotted some in the river. Now was her chance. She walked into the giant river, emerging almost all off herself but her sail as she swam in. She swam and swiveled through the water, moving all of her legs swiftly along with the current.
She then got close and stayed still.
Now it was time for the element of surprise.
She would stay still in the water, making sure to not cause any alarm or suspicion among the river monsters that passed by her.
She didn't look at her prey, she simply sensed them pass by as she had her nose in the water.
Now she was ready.
3…
2…
1…
As Piscius begin to leach and take out the river monster, she quickly swam around, her motherly instincts taking over. As she widened her eyes of the sight of what was about to become chaos.
A lone Carcharodontosaurus stood there, walking towards the baby Spinosaurs that had stayed on the edge of the shoreline.
He walked closer to the babies, content that he has found easy prey for breakfast. He then began to run, his speed reach good distance.
Piscius felt horrified as she realized how longer it would take for her to get back to shore, as she quickly paddled against the current, to try to save her children's' lives.
But she knew better and the pain struck her heart.
She would only be able to save some of her children's' lives.
The lone male Carcharodontosaurus reached the babies and ate one. And another one.
Piscius swam faster, filled with more anger as she made her face more stern, tensed her muscles, and began to prepare her arms for menacing lashes, if needed.
Piscius, being a female Spinosaurus, was smaller and was only a bit smaller than the Carcharodontosaurus that stood only metres away now, eating more of her children.
Piscius would have time to mourn later. This monster had already eaten a good portion of her babies. The Carcharodontosaurus soon realized his mistake, as he lifted his long head up to see Piscius leap out of the water, droplets spraying everywhere as she angrily ran, standing on her hind legs.
She opened her snout, preparing to fight.
The Carcharodontosaurus knew he couldn't simply just run. He had killed too much of Piscius's children, and Piscius would not simply want him to back off, to be ripped apart. He would probably have himself taken near the Spinosaurus territory to warn other predators to back off.
But he was a strong male. He would make it.
At least he was thinking so.
Piscius walked closer to the bipedal carnivore that stand before her, seeing him as the monster, with the blood of her children still freshly dripping on his teeth, even angering Piscius more.
She quickly glanced at her remaining children. Out of her original clutch of 27 children, only 16 were left. She was now angry enough to completely and willingly mutilate the Carcharodontosaurus.
While also being angry enough to make mistakes.
She darted forward, having her arms spread out gracefully as she ran, her sharp claws fully open, ready to be sunk in the Carcharodontosaurus.
The Carcharodontosaurus moved to the side, with Piscius sliding forward, quickly stopping on her feet. She was more suited to the river waters, so she stumbled a bit, realizing the big mistake she had done right now will cost her, possibly a fatal cost.
He then leaped forward and bit the sail of Piscius. Fortunately, he had only used the tip of his mouth to bite the sail. Piscius then felt the searing pain. She shook off the weak bite of her attacker, and slapped his face with all her might. The claw of her right hand gracefully hit and scratched the male Carcharodontosaurus, searing his face with a bloody outcome.
His left eye became useless, with hot red blood searing from his now disfigured eye socket. The tip of his jaw was now damaged. The left side of his nose had a deep gash, making blood sear out of the left side of his face.
Piscius moved forward, proceeding to slap her long snout and latch onto the male. She bit as hard as she could, combining her pain, anger, jaw power, and her will for vengeance and justice contributing to the powerful bite. She then shook her head repeatedly, and used her other hand to scratch the right side of the already disfigured monster-like appearance of the Carcharodontosaurus.
She barely missed the right eye of the opponent. She prepared to slash again, when suddenly she felt a painful bite latch onto her neck.
She then realized that what was happening was quite obvious. She looked and saw that the female partner of the male Carcharodontosaurus.
It all made sense. The male was looking for easy prey to bring to his babies. That was why he left most of the babies dead, the hatchlings of this male were probably barely born, requiring dead but little prey to survive on.
The female's bite was powerful, however the female had luckily miscalculated and did not latch her full mouth on Piscius.
Piscius heard the frantic cries of her children. She was not going to die.
Not without trying.
She then vigorously shook her head to the right, knocking over the male. The male began shrieking and grumbling with pain, blood continuously pouring onto the terrain, the soil beneath it now sodden with the pure color red.
Piscius then slashed the female with her claws, her past actions only adding to her pain and exhaustion. The female suffered bigger lashes. Piscius backed off, roaring at the female. The female lowered her head, hissing at Piscius.
Piscius could tell the female was debating whether or not she should have left the nest to protect the father.
The male, out of instinct to protect his children at all costs, got up and dashed as fast as he could between Piscius and the female. He turned toward the female, roaring at her to return back to the nest. The female understood. She slowly took a couple of back steps, with a depressed look on her face as she realized what her mate was going to do.
As blood dripped from her saddened, pitiful face, she swiftly circled around and darted deep into the green environment were her nest was.
The male then faced Piscius and roared at her. He knew he couldn't outrun Piscius, especially in his own condition.
Piscius stood for a minute, ready to finish off him. She looked at her children and realized it was important that she would have something to warn other predators to back off.
She also remembered her children. She sprinted at the Carcharodontosaurus, and latched her mouth onto the neck of the animal. She then sunk the claws of her right arm into the hide of the male. Piscius pushed over the male.
The male fell, almost dead. Piscius lifted her foot and stepped with all her force onto the disfigured head of the male, completely crushing the disfigured bones of the male. She then walked back to her children, and guided them towards the carcass of the male.
She felt happy, as she saw her young ones were already able to take small bites from the Carcharodontosaurus.
She still felt remorse as she remembered the death of her young ones. She would leave the skeleton of the male next to the babies, as a warning to other predators to tread carefully while Piscius was around.
She felt more confident, however, when she realized her abilities as a mother felt more secure, strong, and promising.
And this day only proved it.
She then walked her children to a safe location to play. She rested in the water. She felt like a ruler over this river… Like a queen… A queen of…
A queen of the Sahara.
***
Please leave a reply!!! Any criticism appreciated!
IT'S TIME TO DU-DU-DU-DU-DUEL!!!
6 Responses to A Day in the Life of a Dinosaur- Piscius the Spinosaurus
Add A Reply
Sign in to add a reply to this topic!