Forum Topic

Hi guys, new images and info, some good, others bad.
Some game I assume?  T-Rex and Triceratops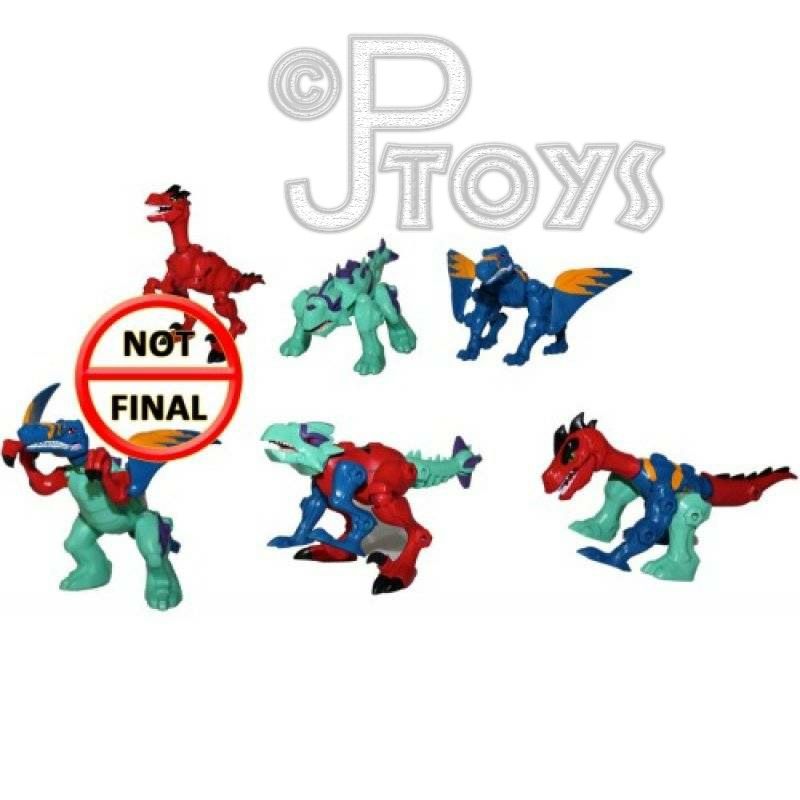 These are the hero mashers...I was hoping for real figures, just removable heads, arms etc. So you can make your own hybrid, these are like Transformer cartoon POS Just my opinnion, and If you have read my previous comments, I was nice to everything, am getting everything, these...hanging on by a thread, I will give them a chance...
This Allosaurus is really nice! I don't know why people are complaing about quality this is awesome, beside the overbite...still like I previously said on this guy, I liked the prototype better...
Now the raptor is awesome!!!! I love the pose and colours remind me of the series 2 Dilophosaurus from TLW. The Rex is okay, prefered the prototype...
These look nice, Spino has some tail feature, Anky looks nice, Stegoceratops...looks like it could be a nice Stegosaurus, love the colour but the head!
Edit: Here is the info I forgot.
"first text:
The toys from Jurassic World come from the movie of the same name (duh) set to be released next June. Kids know dinosaurs are long extinct but they're nevertheless interested in them, and so are adults!
Absolutely all dinosaurs that can be seen in the film are presented here (really?)
Great, furious predators, huge mamals that make a modern day elephant seem small, and even huge dinosaurs that inhabit the sea and eat great white sharks!
On top of the dinosaurs, you can also buy figures of the protagonists of the film, so you can recreate the most impressing moments from the movie. The dinosaurs roar.

Like every Hasbro toys, the JW dinosaurs are made with high quality, safe materials. You can recreate the movie with the toys (basically that's what it says) and also create a world inhabited only by dinosaurs, while traveling amongst them safely in a capsule. Take part in this adventure limited only by the imagination of a child!
The toys are amazingly accurate down to the smallest details, even presenting different sizes. Having bought one of the JW toys, your kid can take the small world of the Jurassic anywhere: on a table, on the floor of the game room, alone or with friends (what a strange, rather obvious selling point lol. It's safe to say that your child will love the toy as well as learn something new about dinosaurs




Second text:

Interactive dinosaur Mega Strike T-Rex from JW by Hasbro is ready to begin its hunting right now! He looks just like in the film. It is made of a soft, original material (here's a word I didn't understand so I might be missing something), that makes it even more similar to the one seen in the long awaited film!
The Mega Strike T-Rex is the biggest of all the dinosaurs in the set, and that's why it is a threat to all other dinosaurs. If it's close, no one is safe. But, when in the form of a hi-tech interactive toy, it causes extremely piositive emotiones of admiration and interest from children (yes, that's what it says lol)

It can move effectively due to its articulated legs and tail. You can bet such interesting toy isn't precisely boring! And it gets better: collect several dinosaurs and recreate the plot of the movie!"
What is your thoughts? 
JPCerato
11 Responses to New Jurassic World Toy Pictures & Info
Add A Reply
Sign in to add a reply to this topic!