Rex versus Spino (AN epic battle!!!) By Rex Fan and Raptor-401
33 Replies
Add A Reply
Forum Topic

2K
Member
3687 XP
Sep-15-2014 5:32 PM
(BY REX FAN 684 and RAPTOR-401 More credits at the end)
I Present to you, ladies and gentlemen, Tyrannosaurus Rex versus Spinosaurus Aegypticus... Only this time...
It's a rap battle... So now...
From the island of Isla Sonar lives the two feuding dinosaurs…
This is EPIC RAP BATTLES OF PREHISTORY!!!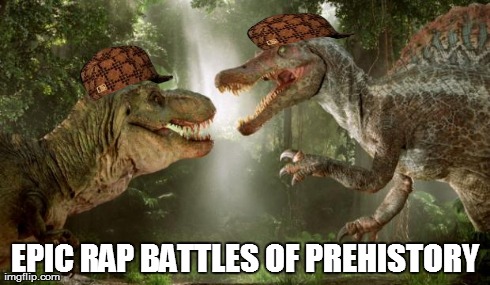 SPINOSAURUS AEGYPTICUS
VERSUS…
TYRANNOSAURUS REX!!!!
BEGIN!!!
(Spino's turn)
Wazzup it's the true King of the Dinosaurs,
Hear my roars,
Look at you, fool!!!
People actually think you're cool!?
Remember that time I beat you like a tool!!??
Brother, I'm sorry but you're schooled!!!
My arms will slice you, I know it's cruel,
Prepare to become a ghoul,
You'll soon become a scavenger's stool,
You brag about your strong bite force,
But yet you still became my main course,
Let's face it, tis' the matter of source,
You will soon be a dying horse,
You may call me overrated,
Overhated,
But the truth is that your loss is fated!!!
Now prepare to become grated!!!
(T.rex Turn)
Hey, I heard you can't beat a wooden door,
And your best weapon is the crap you leave on the floor
You say I'm your main course?
I've heard you like something worse
Isn't fish
Your dish?
Oh, and what's with that fin?
Think that'll help you win?
Nah, I'll leave you "dinosore"
Maybe you should get some armor at the store
I think you might need it
Cause you're gonna get bit
You think your claws
Warrant all this awe
Well I'll tell you what
What'll you do, scratch my butt
(Spino turn)
Oh hah hah, that wooden door?
That time my health was poor!
I will pin your ass against the floor!
Tell you what, this means war!!!
Fish is very nutritious!!!
Helps to keep me vicious!!!
I will keep you in pain quite repetitious!
Because sorry, but I'm just malicious!
Man, you're going to be delicious!!!
Oh, what you making fun of my sail!
Sorry bro, but that's just a big FAIL!!!
Sorry, but I will always prevail!!!
All the blood you'll lose will make you all pale!!!
My claws will destroy you!
Prepare for me to tame you, the shrew!!!
You'll once again be sliced through!!!!
Prepare for your final hour!
I'd advise you to go get a flower,
For your grave, don't mean to sound too sour!
Compared to you I am a rising tower!
Now fight, just try to overcome my power!!!
(T.rex turn)
Oh, quit making excuses
You know it's useless
Overcome your power?
That won't be hard you coward!
I'll just get some big ole trees
Stop you with the leaves
That's all I really need
It'll leave your pants peed.
You brag about your claws
Get a load of these jaws!
They mean your end is near
Wait, did you just shed a tear?
That's no surprise.
Figured you'd go and cry.
Oh, how could I forget my teeth.
The one's that can crush a coral reef.
You're neck is not match,
I'll bite it in half.
It's no real trouble
So let's start this on the double.
You think you're tough cause of one movie?
Buddy, you're a bit loony.
I kind of feel a little sorry for you.
Cause your blood will stain the grass like dew.
There's only one thing you're good at and can get.
That's your butt being kicked!
Hope you guys enjoyed!!!
Spinosaurus Rap Bits done by Raptor-401. T-Rex bits done by Rex Fan 684. This is a mere joke, not meant to be taken literally or serious. Anyone who is offended in the comments will simply be ignored.
IT'S TIME TO DU-DU-DU-DU-DUEL!!!
33 Responses to Rex versus Spino (AN epic battle!!!) By Rex Fan and Raptor-401
Add A Reply
Sign in to add a reply to this topic!