Ridley Scott originally wanted all three alien forms to be translucent to match Giger's paintings. Giger started work on a translucent Facehugger. Ridley wanted you to see the skeletal structure of the Facehugger so a skeleton for the creature was cast in plaster. Rodger Dicken made some Chestburster concepts using latex. The latex dried to a particular colour which Ridley liked and decided the Facehugger should be the same.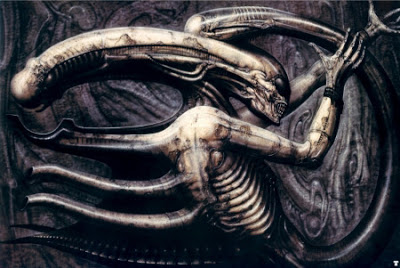 Giger's Necronom IV

"I Agree with Scott to make the Alien's translucent. One should be able to see the skeleton, the blood circulatory system, the organs etc. The skeleton has been cast in plaster and I am starting to design the Facuehugger's skin when..."

- H.R. Giger, Giger's Alien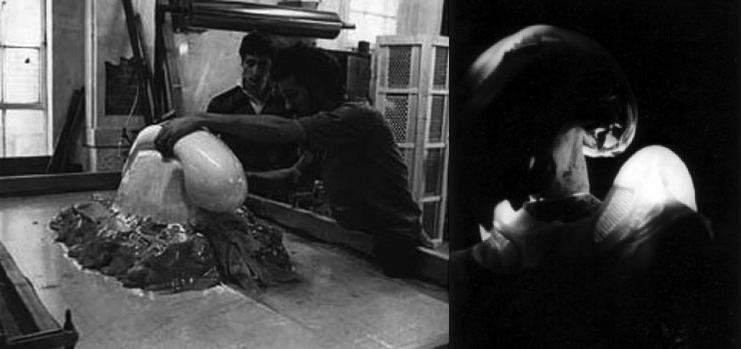 With the translucent concepts for the Chestburster and Facehugger dropped Giger wanted to get to work on the translucent alien suit. To help solve the problem of making a transparent PVC suit a sculptor who worked and made the masks on Star wars was asked to help out and make some experimental concepts. Giger also intended to have wires and fluted pipes layered under the translucent skin.
"But I also made a face-hugger. It had a skeleton inside that you could see through a translucent skin. But there was no time for me to finish it..."
- H R Giger, Behind the Alien Forms Interview.
Multiple experimental suits were made, but none of them could be usable as they couldn't make the materials durable or resistant enough and would tear very easily. Making these experimental suits took time, and time was running out, a suit was needed for shooting. To make matters worse to make some of the transparent suits a special oven was built and used, this damaged the original alien molds so they had to be repaired and patched up in the plaster workshop. In the end, the translucent concept was scrapped.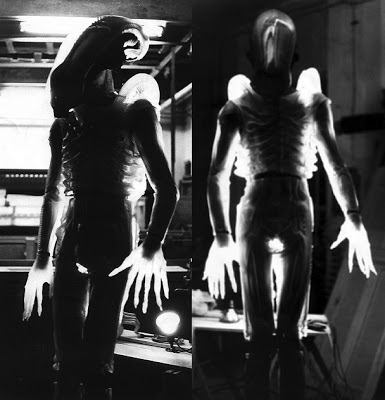 Treat Yourself to Sci-Fi Swag!
We've partnered with the folks at TeePublic to give fans the opportunity to support one another and express their interests by owning customized, unique merchandise based on their favorite science fiction franchises! Designs are created by fans and a portion of proceeds from each sale go to supporting the artists and their work! Check out the entire store and see if anything gets your attention!