Average User Rating: 4.5 / 5
Worldwide Box Office: Not Yet Calculated
Directed by Takao Okawara, Godzilla vs. Destoroyah is a Toho movie based on a screenplay by Kazuki Omori.
Godzilla vs. Destoroyah Trailer
Godzilla vs. Destoroyah Release Date
The release date for Godzilla vs. Destoroyah was December 9th, 1995.
Godzilla vs. Destoroyah Plot
An incident on Bass Island mutates nuclear fission in Godzilla's body and the grandson of Dr. Yamane, Kenkichi Yamane, predicts it will cause Godzilla to explode, taking the world with him. Meanwhile, Kenkichi's sister, Yukari, worries that Dr. Ijuin's micro-oxygen is too much like Dr. Serizawa's Oxygen Destroyer. Ijuin discovers micro-oxygen is inadvertantly feeding pre-cambrian creatures awoken by the Oxygen Destroyer's detonation in 1954. The creatures combine into Destoroyah which could be the last hope of stopping Godzilla. With a heavy heart, Miki Seagusa uses her waning powers to lure Godzilla and his son into battle-- But as Destoroyah's casualties rise the cost of battle may be too high.
Godzilla vs. Destoroyah Poster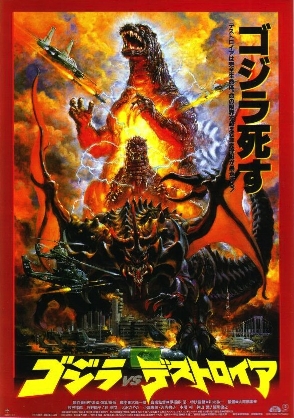 Godzilla vs. Destoroyah Cast
Takuro Tatsumi
Yoko Ishino
Yasufumi Hayashi
Megumi Odaka
Saburo Shinoda
Akira Nakao
More Godzilla vs. Destoroyah Trailers
Godzilla vs. Destoroyah News Articles
User Reviews